Introducing the RRD H-Flight freeride hydrofoil with 80cm mast and Aluminium fuselage 
After more testing, research, and feedback from our global team riders, we have decided to incorporate our hybrid foil with a shorter 80cm aluminium mast (instead of 90cm) paired with an Aluminium fuselage (instead of a Carbon one). The changeable Carbon rear and front wings are unchanged.
We decided to use an 80cm 'Full Flight' mast to cater for those riders that are afraid to hit sandbanks and/or coral reefs at low tide and also for the simple reason that 80cm is long enough for free riding purposes. We decided to go for an Aluminum fuselage because it proved to be stronger, lighter, and is more cost effective.
To reduce the learning curve and to make Kitefoiling more accessible to everyone, we will still offer the two different additional mast lengths. These two optional masts, the 40cm "Take Off" and the 65cm "Touch & Go" together with the standard 80cm mast, make up the "RRD Aviation Academy Package" and are ideal for schools and/or beginners. These two short, optional masts, are available as spare parts and can be sold separately. The Behavior of our Foil set-up is very, stable, predictable, and reliable, which is why it has gained worldwide recognition and such great test results from the magazines.
We are proud to introduce a new result of our non-stop research and development team to the market.
Comes standard with the 80cm mast
Optional 'RRD Aviation Academy' package: 40 and/or 65 cm mast
Lightweight, strong and durable Aluminium mast, plate and fuselage
Pre-preg Hybrid Carbon wings
4 hole adjustable mast plate
Comes standard with bag, nuts, manual and basic tool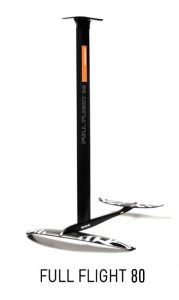 We developed each foil component on the basis of the technology integration between Aluminium design and pre-preg Carbon. So, we wanted to have a combination of these composite materials to create a very reliable, lightweight, but still strong and affordable foil system.
We have decided to go for a 4 hold plate on the mast, because it is the safest system. With 4 solid screws you can also move the foil back and forth, depending on your skills and level.
An Aluminum mast is a monetary and lightweight solution that gave us the possibility to develop a very thin profile mast, that is heavily reinforced inside and has a structural 3 stringers profile.