Airplane
Inflatable Windsurf Board
Air In The Board – Wind In The Sail
The Airplane is Starboard's innovative inflatable windsurfing board model, capable of full planing and real carve jibing.With the new Woven Technology, the 2021 AirPlanes are 1.8kg lighter and stiffer than ever. It's a new level of inflatable windsurf board performance.
The Airplane Windsurf boards at a glance
Double-layer, low-extension woven drop-stitch Fusion Welded technology adds stiffness, improves durability with a higher resistance to puncture, improves shape stability over time and reduces weight. New improved efficiency and reduced drag ensure easier planing. Enclosing the AirPlane's rear fin box permanently in the board streamlines the bottom shape, which improves early planing and top-end speed. The new box is glued in place and no longer removable, which also makes the board easier to set up.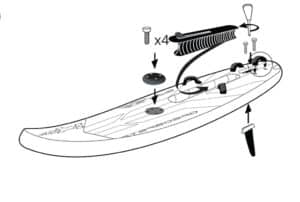 | Model | AIRPLANE 242 | AIRPLANE 255 | AIRPLANE 290 | |
| --- | --- | --- | --- | --- |
| Technologies | Deluxe | Deluxe | Deluxe | |
| Volume | 201 l | 229 l | 290 l | |
| Length | 242 cm | 255 cm | 290 cm | |
| Width | 72 cm | 78 cm | 90 cm | |
| Thickness | 6″ | 6″ | 6″ | |
| Footstrap Rows | 1 | 2 | 2 | |
| Fins | Drake Freeride Power 40 + Shallow 22 | Drake Freeride Power 42 + Shallow 22 | Drake Freeride Power 41 + Dagger board | |
| Fin Boxes Starlite | Tuttle Fast Box + Removable US box | Tuttle Fast Box + Removable US box | Tuttle Fast Box + Removable US box | |
| Sail Range | 2.0 – 8.5 m2 | 2.0 – 8.5 m2 | 2.0 – 9.5 m2 | |
| Weight | 7.9 kg | 9.15 kg | 14.05 kg | |