SPIRIT SURF
CATEGORY: SURF / FREERIDE / STRAPLESS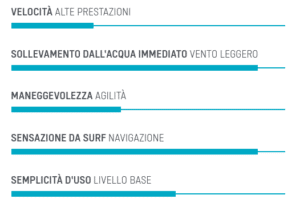 PERFORMANCE FEATURES
+ GREAT LIFT AND LOW END POWER
+ INCREDIBLE WHITE WATER STABILITY
+ PRAWN SURF POSSIBILITY
THE LOW ASPECT RATIO PROFILE HAS A HUGE AMOUNT OF LIFT AND OPENS UP A NEW REALM
OF POSSIBILITIES FOR SLACK LINE TRICKS AND CARVES WHERE NO KITE POWER IS NEEDED. THE
WING PROVIDES THE FEELING THAT YOU CAN SURF THE WING RATHER THAN ONLY BE PULLED
AROUND BY THE KITE ALL THE TIME. DUE TO HIS PROFILE, SHAPE AND SIZE, THE WING CAN
ALSO BE USED FOR PRAWN SURFING ON NO WIND DAYS. THE WING PROVIDES AN INCREDIBLE
STABILITY IN WHITE WATER WHICH MAKES IT EASY TO SURF IN SMALL WAVES. IT IS FOR THOSE
LOOKING FOR A PURE SURF FEELING IN A KITE FOIL.
WHEN YOU LIKE TO USE A SMALL KITE AS OFTEN AS POSSIBLE, EVEN IN LIGHTER WIND
CONDITIONS AND YOU ARE LOOKING FOR THE SAME SET UP TO SURF ON NO WIND DAYS, THE
SPIRIT SURF IS YOUR WEAPON OF CHOICE.
TECHNICAL DETAILS
+ NEW ALUMINIUM FUSELAGE WITH POCKET FOR MAST CONNECTION FOR MAXIMUM STIFFNESS AND BEST
TRANSMISSION OF STEERING IMPULSES
+ NEW MAST PROFILE WITH LONGER CHORD LENGTH ELIMINATES TO AVOID VENTILATION AT HIGH SPEED
+ FULL CARBON FRONT AND BACK WING
+ FORMULA 1 FUSION TECHNOLOGY FOR CONNECTION OF MAST AND PLATE – MADE IN GERMANY
+ RECOMMENDED MAST LENGTH 75 CM
+ COMPLIMENTARY WEDGES FOR INDIVIDUAL BACK WING FINE TUNING
+ COMPATIBLE WITH ALL OTHER SPIRIT WINGS
Sizes
90-75-60