CATEGORY: FREERIDE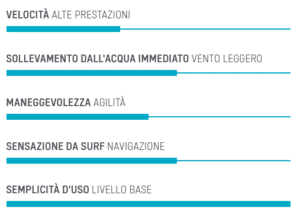 PERFORMANCE FEATURES
+ ALLROUND FREERIDE FOIL
+ GOOD TRACKING AND DIRECTIONAL CONTROL
THE GOAL WITH THE SPIRIT FREERIDE FOIL IS TO FIND THE PERFECT ALL ROUND, MULTI-PURPOSE
HYDROFOIL SETUP. IT'S A SINGLE-STROKE WING IN THE SENSE THAT YOU WILL NORMALLY BE
FLYING AFTER JUST A SINGLE POWER STROKE FROM YOUR KITE AND ALREADY MAINTAINS
FLIGHT AT LOWER SPEED. THE SPIRIT BACK WING IS BIG ENOUGH TO GIVE GOOD PITCH CONTROL
AT LOW SPEEDS, BUT NOT TOO BIG TO HOLD YOU BACK AT THE TOP END. WINGLETS OFFER GOOD
TRACKING AND DIRECTIONAL CONTROL.
THERE´S NO BETTER CHOICE TO START YOUR FOIL FREERIDE CAREER THAN USING THE SPIRIT
FREERIDE SET UP AT AN UNBEATABLE PRICE POINT.
TECHNICAL DETAILS
+ NEW ALUMINIUM FUSELAGE WITH POCKET FOR MAST CONNECTION FOR MAXIMUM STIFFNESS AND BEST
TRANSMISSION OF STEERING IMPULSES
+ NEW MAST PROFILE WITH LONGER CHORD LENGTH TO AVOID VENTILATION AT HIGH SPEED
+ UNIQUE AND INCREDIBLY DURABLE CARBON COMPOUND FRONT AND BACK WING
+ FORMULA 1 FUSION TECHNOLOGY FOR CONNECTION OF MAST AND PLATE – MADE IN GERMANY
+ COMPLIMENTARY WEDGES FOR INDIVIDUAL BACK WING FINE TUNING
+ COMPATIBLE WITH ALL OTHER SPIRIT WINGS
Sizes
SPIRIT 60 FREERIDE
SPIRIT 75 FREERIDE
SPIRIT 90 FREERIDE