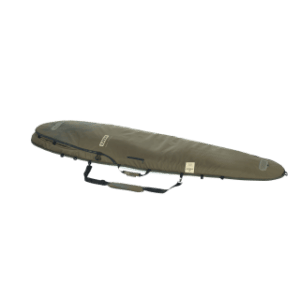 Line Concept
"The Surf TEC_Boardbags are the crème de la crème of surf boardbags with 8mm padding and Profile_Tec on the bottom, 10mm padding on the top and ION's Rail_Guard along the sides.
Bag_Breeze 2.0 keeps bag and contents ventilated whilst the adjustable tail end of the bag ensures the perfect fit with integrated fin pockets to stay organized on the road.
COLORE: Olive
SIZES
Sizes: 6'0
Max. Board Size: 183×53 cm
Weight: 1,97 kg
Sizes: 6'5
Max. Board Size: 199×54 cm
Weight: 2,30 kg
Sizes: 6'10
Max. Board Size: 210×55 cm
Weight: 2,50 kg
Windsurf TEC Boardbag 2019
The area around the fins is adjustable with the Windsurf TEC Boardbag in order to fit and protect all types of fins. It also comes with a handy Shoulder_Strap to ensure that you always have one hand free for "more important things" than carrying. The Windsurf Tec Boardbag is available in 6 different
Colore: Petrol
8 + 10 mm profile foam padding -> Profile_Tec
Rail_Guard
Bag_Breeze 2.0
Reinforced tarpaulin areas
Adjustable fin area
Removable shoulder strap.
Materials
Tarpaulin / Nylon 600D
Misure
XS (max board size 235*58cm)    
S (max. boardsize 240 × 61 cm)
S/M (max. boardsize 245 x 66,5 cm)
M (max. boardsize 245 × 73 cm)
M/L (max board size 250*79cm)
L (max. boardsize 255 × 85 cm)
Pesi
XS 2,4 kg
S 2,6 kg
S/M 2,9 kg
M 3,0 kg
M/L 3,2 kg
L 3,4 kg